Retina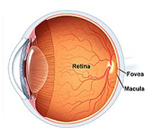 DIABETIC RETINOPATHY
Diabetic Retinopathy is the leading cause of loss of vision in diabetic patients.
WHAT IS DIABETIC RETINOPATHY
It is the change in the retina of diabetic patients.
Blood vessels become weak and leaky
Results in small bleeds and Oedema with exudates deposition
Bleeding into the eye cavity
RETINAL DETACHMENT
PREDISPOSING FACTORS FOR DIABETIC RETINOPATHY
Young, insulin dependent diabetics
Poorly controlled diabetics
Pregnant diabetics (gestational diabetes)
Long duration of diabetes
Risk increases with increase in the duration of diabetes.
Can remain asymptomatic for many years
Commons symptoms are blurring of vision, floaters and sudden loss of vision
Advanced D.R. can lead to secondary glaucoma, haemorrhages and detachment of retina, causing loss of vision.
HOW OFTEN SHOULD A DIABETIC PATIENTS HAVE EYE CHECKUPS
Once diabetes has been diagnosed, checkups are recommended at a regular interval.
Patient should be referred to an Ophthalmologist immediately.
INVESTIGATIONS PERFORMED FOR A DIABETIC PATIENT
Regular vision checkup
Regular retina examination performed after pupil dilatation.
Investigations – Taking a series of photographs of the retina.
MODALITIES OF TREATMENT AVAILABLE FOR DIABETIC RETINOPATHY
Laser photocoagulation, Intravitreal Injections,
Surgery in advanced stage
ROLE OF LASER
Laser treatment is done to prevent further loss of vision and preserve outpatient procedure. There are no restrictions after the procedure.
ROLE OF DIABETICS IN THE PREVENTION OF DIABETIC RETINOPATHY
Keep Sugar and lipid level under good control
Get periodic eye checkups done
Take prompt treatments as advised by the ophthalmologists